Black Cherry Display Cabinet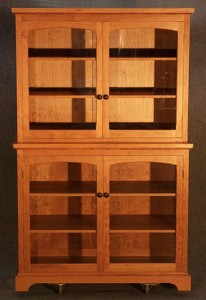 Mortise and tenon door frames, frame and panel back, adjustable shelving, glass doors and hand turned Cocobolo knobs.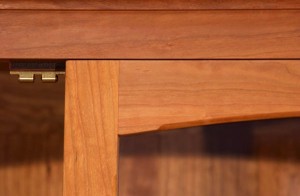 Shown here is the brass ball catch for the doors as well as the chamfer detail on the door stile where the arched wood meets the glass.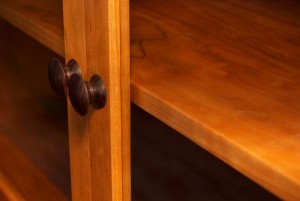 Hand turned Cocobolo knobs have a small tenon that fits into the door.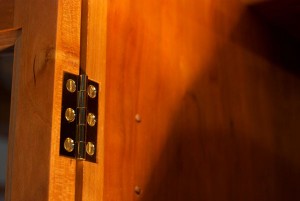 Here is a nice solid brass hinge. We use extruded brass hinges because they are very precise. Note that the screw slots are "Timed" or "Clocked" to be in a line.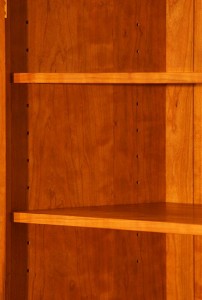 Detail of adjustable shelving.
---
Black Cherry Cabinets with Maple Details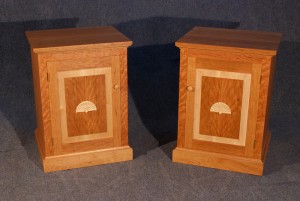 These Cherry cabinets can be used as End Tables or Night Stands. They are made from solid Black Cherry accented with Maple details. Notice the curly figure on the upright stiles on both sides of the cabinet.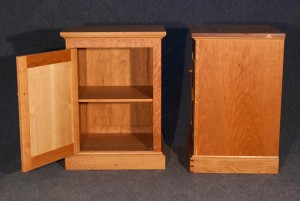 Here is a view with the single door open showing the adjustable shelves inside. The back is a frame construction with a floating panel. This construction allows just enough space inside to accommodate seasonal humidity changes.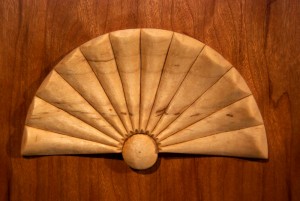 Here is the hand-carved Maple Shell Inlay up close.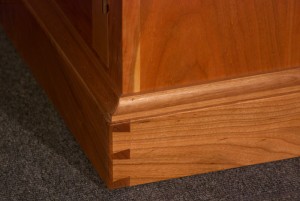 This is the base detail – Half Blind Dovetails with Cove molding on top.
---