________________________________________ Curly Maple/Leather Desk

This Fine Desk we built from solid Curly Maple. The drawers have hand-cut, half-blind dovetails, 3 Writing Pullouts. Detailed ebony inlay on the legs. The feet were hand carved in Basswood and then sand cast in Bronze by one of our Craftsmen.
The drawers were trimmed in Ebony and fitted with Brass hardware.

________________________________________ Curly Maple Desk with Hand-Rubbed Oil Finish

This 3 Drawer Desk is built in Solid Curly Maple, with an aniline dye stain. The drawers are built using time tested, hand-cut, half-blind dovetails. Then the legs and knobs are turned using a lathe. The hand-rubbed Oil finish is a proven and respected finish.

________________________________________ Rustic Mesquite Desk

Rustic Mesquite Desk front view. This desk has a keyboard pullout, single drawer and door cabinet to house a computer. Hand forged iron pulls.

The back view. Bookmatched panels and waney bottom edge.
Showing door and drawers open.
Detail of hand-cut, half-blind dovetails. Mesquite lends itself particularly well to the Rustic or "Waney" edge. Note the Cat's Paw Burl in the middle of the drawer front.
Detail of bug hole character.
Turquoise inlay detail.
This is real Turquoise stone inlaid into the natural cracks.
End view Rustic Mesquite Desk.

______________________________________Mahogany Desk with English Windsor Chair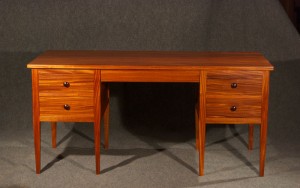 This Mahogany desk was a custom commission for one of our long standing customers. It is designed to be a computer desk.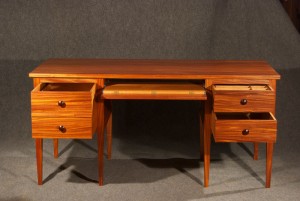 The center pullout has a place for keyboard and the right drawer has a sliding tray for pencils, paper clips etc. The left drawer holds hanging file folders.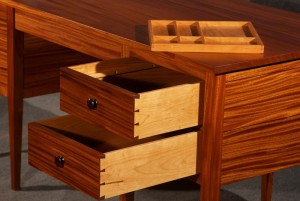 Removable tray and close up of half-blind dovetails. Note the beautiful ribbon stripe figure in the Mahogany.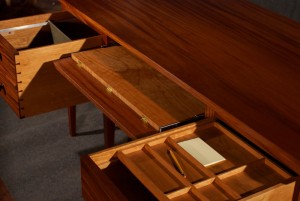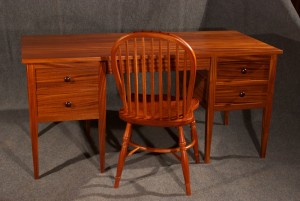 Mahogany desk with English Windsor chair.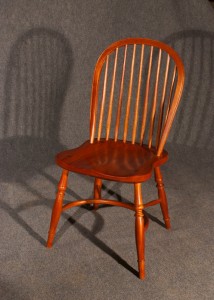 The legs are hand turned on a lathe, back bow and lower rail are both bent, seat is hand carved, note the small groove detail following the back bow arch on the front top face.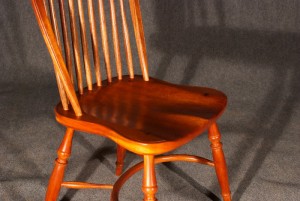 Close up of seat carving.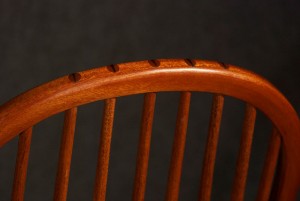 Close up of through tenons on back spindles. Cocobolo wedges.
---
---