Large Oak Dining table.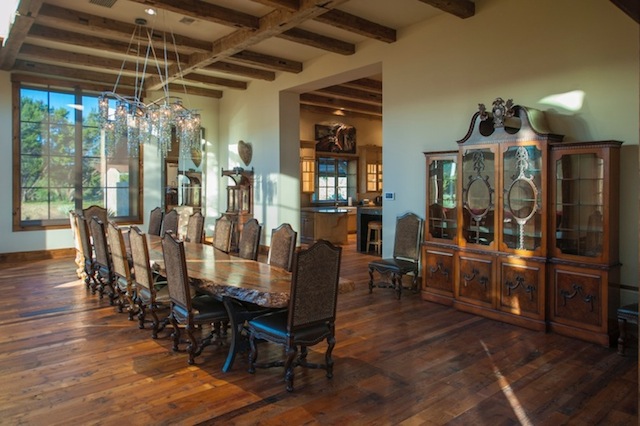 This Oak table is 22′ long and weighs about 2200 pounds! In the room it was set in, one of our companies did the rustic beams and flooring. Our Blacksmith did the Iron base. The Live Oak tree had been hit by lightning and the center burned out. The void that was left, I filled with an inset of Oak and Turquoise. The slab top is 3 1/2″ thick. I removed the bark but left the "waney" log edge shape and texture for an added rustic feel.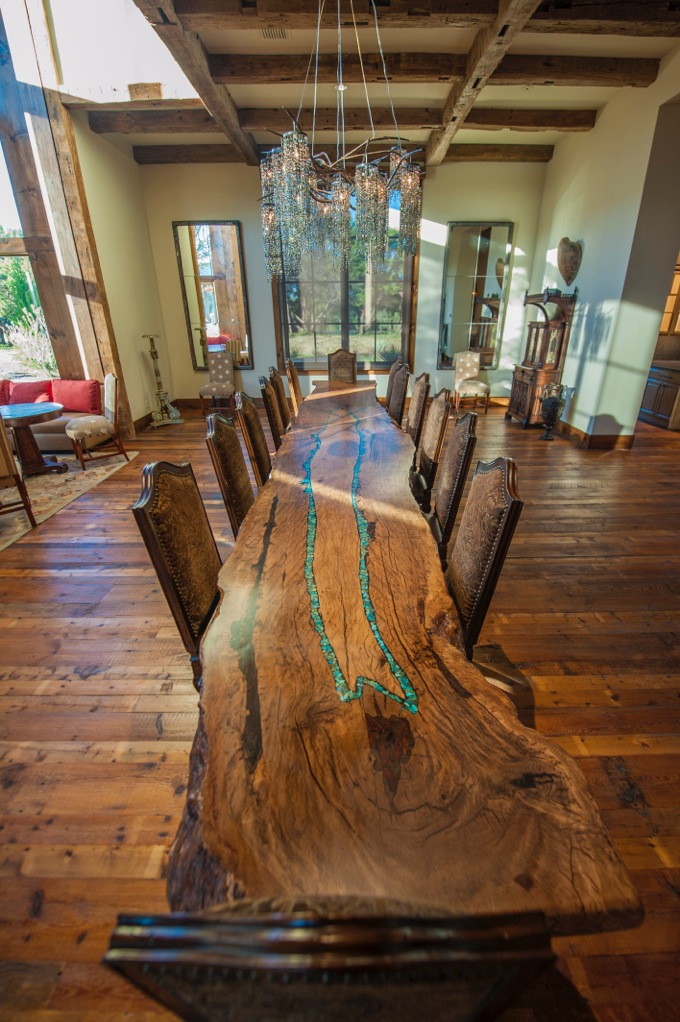 We made this solid Mesquite Table with 2 center leaves to be expandable. It seats 6 when closed and 8 with leaves installed. This fine table was built using Mortice and Tenon Joinery, the Cabriole legs are hand shaped. The chairs are our Brazos Style chairs.
---
This Rustic Table has Breadboard ends. We built it using reclaimed Oak pulled from Old Barns. We sand it to remove the splinters and then coat the top with a polyurethane or an epoxy finish to seal it. Each piece is unique and different because of the different places the wood has been reclaimed from. The joinery here is Mortice and tenon with wedges to insure this Heirloom piece will be handed on for generations to come. Delivered to China Spring Texas.
There is some original writing on this rail from  February 22nd, 1888 East Cobbskill.
Here is an end view showing some of the joinery and the lovely texture of the hand hewn timbers.
A nice angled dovetail!
---
This Mesquite Table top is mounted on our hand-forged Iron Base. Our Blacksmith designed this base to allow chairs on the ends plenty of foot room as well as on the sides. The Black Windsor Chairs are an English style. The matching Bench is 6' long and has 6 hand turned legs with a hand carved seat. Hand rubbed Danish oil finish.
---
This Table is eight feet long with the leaves! The leaves come out to leave a 5' Circle. The solid Walnut top is inlaid with 5 pointed Texas stars. There is a single star when the table is closed and there are three stars when the table is expanded.
The Walnut Chairs are our Brazos style dining chair with Mortice and Tenon Joints, and a scalloped seat.
---
A fine Mesquite dining set. The pedestal base allows for two center leaves. Delivered to Gatesville, Texas.
---
Details of the curved bench foot
---
Here is the column up close.
---
A nine foot Mesquite Trestle table 48″ wide.
Delivered to Austin, Texas.
---
Rustic Barnwood Trestle table. Delivered to Dallas, Texas
---