I am working on a Texas sized table! This custom dining table will be 48″ wide and 22′ long for a Texas residence. We are cutting the Live Oak log from a downed tree on the clients property and then will build the long table specifically for their application. I took one of my helpers along to help cut the tree and had him hop up on the log for a picture. The saw in the photo has a 42″ long bar! the root ball on the tree is about 8′ tall.
I started by cutting an alignment cut along one side of the log and then began ripping the log with the chainsaw. After making two rips, using an entire gallon of chainsaw fuel ( 🙂 we did not spill it either) and a good bit bit of perspiration, we had a slab 13″ thick ready for setting onto the trailer. A skid steer was perfect for the moving task.
Here this large Live Oak slab pretty well fills the trailer. I am figuring that being wet, it weighs close to 3,000 lbs.
I took the log down to Austin to visit Brandon Berdoll and his sawmill. Brandon and crew were able to help me resaw the slab into two 4″ sections. Here is a shot of the slab from the bottom side. The tree was hit by lightning at some point and most of the wood inside the void was charred.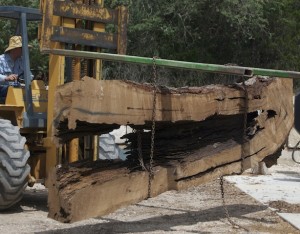 I currently have the slabs being vacuum kiln dried so we can begin the process of assembling the table top. Our Blacksmith here in the Homestead Heritage Craft Village is building the base for me. I'll post again as we move along with it.
---